The Duchess of Alba (no: 18), also known by one of her many names as Cayetana de Alba, was a figure often seen in Spanish gossip magazines when I moved to Spain in mid-2013. With her wild, white, frizzy curly hair and being well past 80 years, she seemed always up for little fun - usually a move of sevillanas, which, of course, people here in Seville loved!
Stables with an old arch
from a mosque built by mores.
One of her Palacios is open to public since 2016 (she passed away in 2014). It is called
Palacio de las Dueñas
, the name pointing to an old monastery called Santa María de las Dueñas which used to be in the same premises (from 1248 onwards).
But, as the visit to the Palacio's stables reveals, the arches that hold up the stalls are from some old mosque that was built there already in the 4th or 6th century! Apparently they go down underground some 2m deep.
The place is a mix of styles, like everything is Andalusia, from gótico-mudéjar style to Luise XV and renaissance. It was constructed in the late 15th century onwards. It has great gardens too. Somehow, though, the place is a bit shallow, it does not really tell much about the last Duchess, even if she lived there among many other places that she owned.

So I googled something more about her, a few funny anecdotes will follow.

I found some really neat pictures from her youth which reveal some more personality about her. What, of course, pleases me most are the pictures of her on horse-back!
La duquesa de Alba es una mujer que vive con toda pasión la fiesta sevillana. Foto: Archivo ABC
Apparently, she even took Jackie Kennedy out to Feria on a horse-back!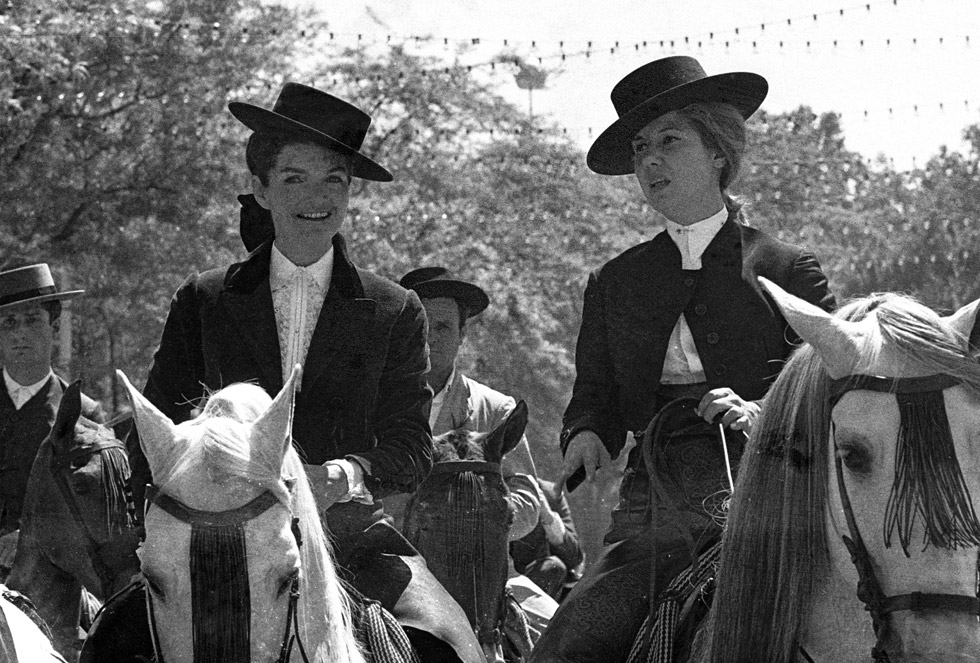 Jacqueline Kennedy visita la Feria de Abril de Sevilla en 1966 acompañada de la duquesa de Alba.
Also, because of her many titles (the most titled aristocrat in the world!) and privileges, she also had
a right to enter
the cathedral of Seville on a horse!! I wonder if that ever happened?
Apart from the passion for horses and dogs, she of course also had a big collection of art, and she did some painting herself too. Interestingly, when she wanted to marry for the 3rd time in her 80s, there was some push-back from her children. In order to marry, she passed on much of her wealth (which was estimated at somewhere between €600 million and €3.5 billion) to her children and her soon-to-be-husband renounced any claim to her wealth. The list of much valued art is amazing, but funnily enough, it also included a first-edition copy of Cervantes's Don Quixote!!
One of her ancestors, who also held the dukedom of Alba, was also called Cayetena (13th duchess of Alba), was somewhat a rebel of the time and there are some
famous Goya painting of her
. But there is also the story of La Maja vestida de Goya, and that of a nude one being her, which apparently is
fake news
!